by Joean "Iman" Montayre
It was a breath of fresh air for the modest fashion enthusiasts, for the Muslims in general who had been the most active voices behind the modest fashion movement. When Modest Fashion Weeks set up a gigantic runway for models clad in lengthy and loose outfits parading down in one of the most spectacular events of fashion's modern history. For the world, it was just another runway show but for the Muslims, it felt like a sweet victory.
It was the year 2016, in Istanbul, and a stage was set up for everything but modest fashion, and for the first time, it created a media frenzy. The coming out of modest fashion on its own stage with such magnitude shook the fashion world that had long been monopolized by mainstream trends. Perhaps, it seemed impossible for modest fashion to make a major comeback that would place itself alongside the mainstream. Yet, it did, with flying colors.
So, why did it matter?
In fact, it was not the first time that modest fashion enthusiasts of conservative communities have set up a fashion show for its sake. But what set Modest Fashion Weeks apart from all the modest fashion shows of today and in the past was its inclusivity. It was not hard selling religion, it was simply modest fashion. It understood what is need to be done. It was eloquent enough to address the issue of globalization and how to revolutionize modest fashion. The organizers of the show- ThinkFashion with the collaboration of Modanisa- gathered all the mighty talents of the modest fashion world to historically shatter barriers that night.
The grandiose and exclusivity that equaled the elites, the extravagant production in the caliber and virtuoso of the fashion giants, and in the limelight that was once only a dream by every modest fashion designer were finally fulfilled. The show featured not only modest fashion designers from one region or two, but it invited as many as it can from different corners of the world. Not only that, the show was not only limited to Muslim-owned brands.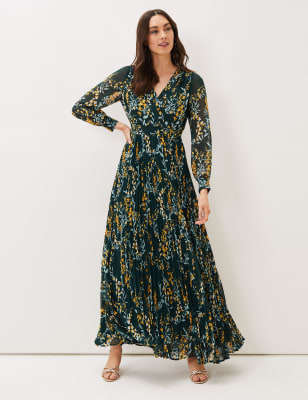 Floral long-sleeved maxi from Marks & Spencer
When the epoch of the industrial age taught us only the language of freeing women from the bondage of lengths to more liberal styles that will resonate with her freedom and sophistication came the real freedom of modest fashion. After hundreds of years when dressing up modestly became a symbol of naivety and backwardness, modest fashion movements broke free from this notion and claimed its regality back.
But this doesn't mean the modest fashion movement was non-existent prior to 2016. There had been fashion shows, communities, and organizations that were supporting modest fashion. The establishment of IFDC led by Alia Khan was a major frontrunner in giving modest fashion voice a face in the West. It had the support of fashion figures like Roshan Isaac from Style Africa, and others including Council of Modest Fashion's Franka Soeria who is also one of the brains behind Modest Fashion Weeks. And before we forget, we need to mention the first Muslim Indonesian designer, Anisa Hasibuan, who got featured in New York Fashion Week which paved way for others like her to aspire to the same.
Featured photo from Modesty on Blvd
The opulent fashion shows coupled with modest fashion influencers in social media brought us where we want modest fashion to be, but what comes next?
Modest fashion movement victoriously opened consumers' interest but are there enough resources and easy access? Are we offering more variety? Are we addressing and foreseeing the problems that are already taking place and what is yet to come?
What I noticed is that we still lack. Though there are many brands littered on Instagram, the choices and the categories are still limited. Where is the children's wear? The men's wear? Where are the ready-to-wear choices for brides and grooms? For the petite, the small people, and plus-size? How about the active athletes? How about the older age group and teenagers? How about the corporate? The breastfeeding and the pregnant? The modest fashion I see is mostly for ladies of a certain age bracket and sizes, and it's as if modest fashion forgot the rest of us.
Self-sufficiency. This is our next goal.
When we talk about modest fashion, it doesn't only concern designers and manufacturers to make clothes that look great on Size 4- and 20-year-olds. Modest fashion should address the whole demographic of consumers. Who are we selling to? Where and who is our possible market? Are we the only modest people on this planet? Have we truly addressed modesty and built unity with all other modest fashion communities?
In case we are only catering to young adults who can post to Tiktok or Facebook or Instagram, to my fellow fashion designers, it is time to reconsider our branding and our production line. Because there are women and men out there who are left out.
Photo Courtesy of Virginia Gomes via Pinterest
Self-sufficiency also means raw materials. We need to learn from the fashion giants like Dior, Versace, and others. They have raw materials that are exclusive to them. They manufacture their own textiles and accessories. They care about exclusivity, originality, and quality.
I believe it is also high time that we take responsibility for producing raw materials and everything we need for the modest fashion industry to thrive and the modest fashion brands to flourish.
Lastly, the modest fashion market is huge. By the way, we are not the only modest community in the world. Jews, Christians, others, and even seculars wear modest too. Because aside from it, mainly, a religious obligation, it is a social responsibility as well.
I will close this article with the hope of a more, and truly inclusive modest fashion industry.
*This article was written and published for in the Al Huda Center of Modest Fashion